The doors of new Sharp refrigerators open in both directions!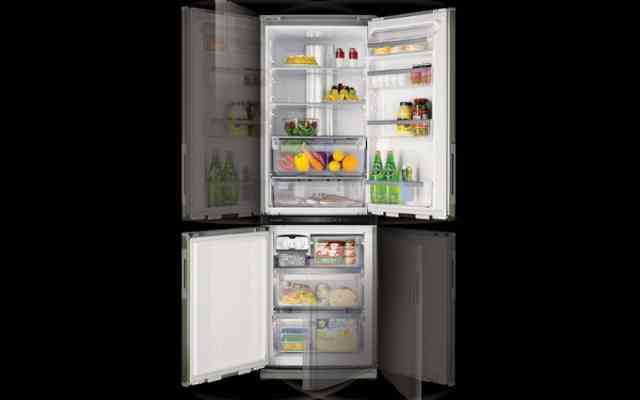 Great news for families in which there are right-handed and left-handed, just to the owners of small kitchens — in the domestic market of home appliances began to appear in vypushennye light at the end of last year the brand new Sharp refrigerators: SJ-WP371T and SJ-WM371T. The uniqueness of these coolers is that the refrigerator doors are opened in both sides. This happens thanks to an innovative system of bilateral door retention. Such refrigerators can be installed anywhere, without thinking about how it will be convenient to open the door.
Other advantages of refrigerators
In addition to the convenience of doors, refrigerators Sharp SJ-WP371T and SJ-WM371T have many advantages. Large refrigerators are equipped with air purification systems by applying ionization — Plasmacluster. This technique allows products to preserve much longer than in conventional refrigerator, and the walls of the refrigerating compartment does not appears fungus. With Nano Deodorizer air freshener comes complete removal from the refrigerator odors, so even stocks with a strong smell (fish, cheese, onion, garlic, etc.) can easily be put in the fridge and there absolutely will not feel their fragrance.
The hybrid cooling system provides long-term and high-quality storage products thanks to a powerful ventilation and air supply system, multi-threaded. Distribution of cold air throughout the refrigerator comes in moments, providing a rapid cooling of newly laid to products, thus maintaining the stable temperature of the products that have been placed in the fridge before.
Of course, models of refrigerators Sharp SJ-WP371T and SJ-WM371T equipped with NoFrost system which eliminates the occurrence of frost in the refrigerator, and thus defrosting manually.
Protection from damage
Refrigerator has an effective management and an excellent set of system conditions. In order to avoid accidental resetting occurred preset parameters, in refrigerators, a system lock your settings. Monitor the operation of the unit easily by using the information that is displayed on the digital display. So these models are protected from having to repair refrigerators.