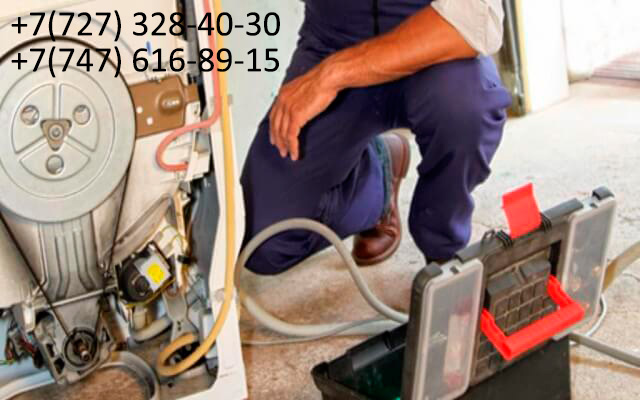 Repair of washing machines
Today repair of washing machines — it's not just a service, it is a necessity of the modern world.
A good washing machine is a dream of any housewife, because this unit is the perfect assistant in the house. And equipped with such units-of modern features allows almost completely free from any human complement-enforcement operations in the washing process.    But no matter how  is modern and high-quality machine, sooner or later it may need repair.
«Snowflake» company  only provides repair washing machines Almaty inexpensive, but also provides additionaling warranty on the work done. Our service repair washing machines perform repair brands such as: Indesit, Samsung, Daewoo, Atlanta, LG, Ariston and other less popular models. To do this, you need only call phone on the site, describe the problem and call the master to your home at any time convenient for you. Repair of washing machines in Almaty at home is a necessity of modern life. Our repair shop of washing machines spends repair work on weekdays and on weekends. Emergency repairs — this is what offers the repairman washing machines to its customers. Repair of washing machine will not be difficult for the professional.
Service of the repair of washing machines in Almaty
Most of the damage is eliminated right at home at the customer. Therefore, repair of washing machines in Almaty with the departure of our specialists will help to save you money and time. At the appointed time the master will arrive at the specified address at the order with all the necessary tools and carry out an initial diagnosis device. Only then can you begin to repair the washing machine.
We install only high quality spare parts that the master acquires from reliable suppliers. This is very important, as installing a spare part of poor quality can lead to re-repair unit. Often it turns out to repair the device at once, on the same day, but sometimes it takes a little longer, depending on the complexity of the situation.
In our workshop is available to you repair indesit washing machines, as well as the repair of washing machines Samsung, because it is the products of these manufacturers is the most common today. Our specialist will not only repair the cars of these firms, it can also be carried out to connect the unit to the required communication.
Urgent repair of a large model line of washing machines!
Our repairing shop issues a warranty for the work and replacement parts for three months. During this time, it checks how the replaced part, and it turns out the presence of the factory marriage. One year warranty, which can promise our competitors — is a beautiful fairy tale, but in reality it would be quite wrong. After all, only plants manufacturers of new appliances issue a warranty with this term.
We guarantee quality repairs washing machines in Almaty at affordable prices!
Our workshop for repair of washing machines in Almaty performs quality work! If you need to repair washing machines in Almaty cheap — you are on the right site! For more information, please call in Almaty:
+7 (727) 328-40-30, +7 (747) 616-89-15.