BOSCH KGS36Z25 refrigerator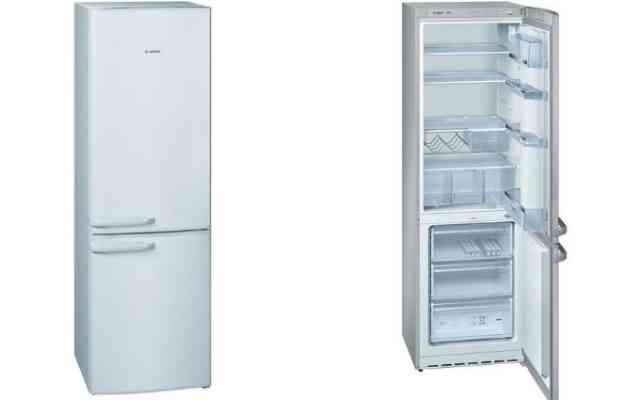 The modern refrigerator with two compressors and climate class SN-T, expenditures totaling 328 kW / h per year is-use continuous operation. Standard Energy is A +.
О производителе
About Manufacturer
Bosch Company was formed in 1886 in the German city of Stuttgart. Engineer company creator Robert Bosch started the company with a small workshop of mechanics and electronics. And now, after only 120 years, the company «Bosch» consists of three hundred in Honor of subsidiaries that manufacture household appliances under the «Bosch» mark more than a hundred models, as well as diverse tools and precision tools.
The quality produced by washing machines and refrigerators meets the highest requirements. If you've ever enjoyed a comfortable and high-tech devices «Bosch», then you know their reliability, durability and quiet operation. And the slogan of the greatest of German concern «Invented for life» speaks for itself. «Bosch» Group values ​​its customers and pays particular attention to already purchased their equipment. On the maintenance and repair of refrigerators BOSCH KGS36Z25 company spends the minimum time, if the user leaves the application to the «Bosch» corporate center.
The company «Bosch» is striving to fulfill their refrigerators in a beautiful and eye-catching design, the compressor work full-Stu silent, and the parameters of the cooling and freezing products are verified to the last detail. All of the above applies to model BOSCH KGS36Z25.
About the model
Refrigerator is a so-called «Asian» type. In the upper part is the refrigerator compartment and freezer arranged underneath. Sealing the cabinet provides a pneumatic device dozakrytiya doors.
The refrigerator compartment has a volume of 223 liters, freezer — 94 liters.
In the fridge there are 2 non-regulated automatic mode:
supercooling mode
superfreezing Mode
thawing process also works in the automatic mode.
Other features:
Temperature monitoring with separate electronic control.
Freezing capacity 8.5 kg / 24h
Products at the switched off power supply can be stored up to 22 hours.
Power consumption 160 W
Refrigerator dimensions: height is 185 cm, width  is 60 cm, length is 65 cm.