LIEBHERR CBPES 4056 two-compartment refrigerator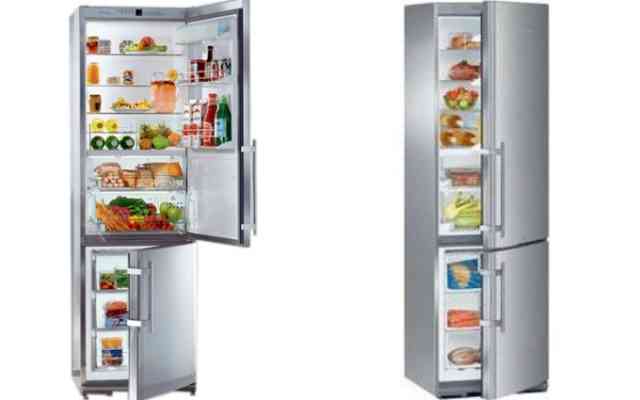 Refrigeration LIEBHERR long established itself as an example of operational reliability and durability of the holo-spinning devices.
However, the company's engineers, designers and guidance on our laurels do not stop and continue to look for new ways to improve existing refrigeration and creation of new models.
layout refrigerators
Lineup LIEBHERR company includes refrigerators with a different arrangement of the freezing and refrigerating:
layout of the «European» — freezer is located above the refrigerator, each camera has its own door.
layout of the «Asian» — freezer bottom, above the freezer.
and finally, the «American» — the location of containers System Side by Side, Left freezer, freezer right. Such a refrigerator two hinged doors.
As a rule, the US layout refrigerators purchased in large families of six or more people, as the capacity of cells to store a large number of products.
About NoFrost system
LIEBHERR refrigerators were the first in which used NoFrost system that supports continuous process of thawing and prevents the formation of frost and icy layers. This system has improved and is now established two additional SmartFrost StopFrost and technology to ensure rapid cooling of the products without flying frost.
Model 4056 LIEBHERR CBPES
All new «Comfort» LIEBHERR refrigerators firm model class has been standardized in accordance with the latest requirements of operational efficiency. They are assigned to the class A + and A ++, providing significant energy savings.
In the same breath with the LIEBHERR LIEBHERR CBPES novelties is 4056 model, as the most promising for further improvement. Currently, this model has a number of advantages. First of all, repair of refrigerators 4056 LIEBHERR CBPES hardly produced, the firm provides a replacement components and assemblies entirely under the warranty.
Also, there are new technical developments in the refrigerator:
Fully electronic control of all processes,
Both cameras with digital display of temperature Magic Eye mode,
Auto mode SuperFrost,
Energy efficiency class A ++,
• Special compartment for butter and cheese, which is supported relaxed cooling mode. In the same department should be stored quail eggs.