New refrigerators Liebherr series CBNPes 3756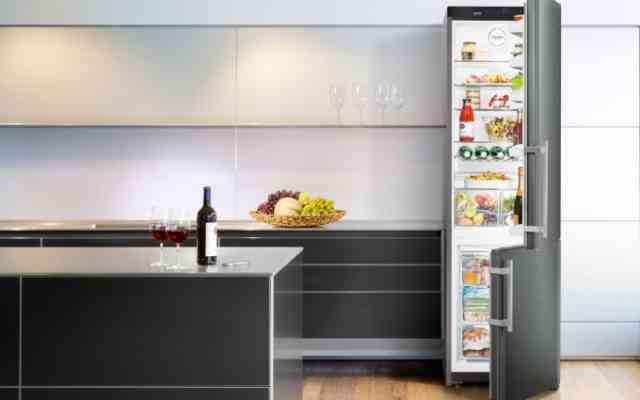 Functionality and usability
The new line of refrigerators Liebherr differs from its predecessors, above all, cost-effective power consumption. The manufacturer has developed a machine with the most effective class of energy consumption, which in Europe is indicated by marks A +++. New refrigerator CBNPes 3756 consumes 170 kilowatt hours per year: it is less than that of a small-size device height 85 cm.
Owning a home appliance of this brand at the unobtrusive care and implementation of the rules of operation do not need repair of refrigerators Liebherr, since the manufacturer, care about consumers, it produces a truly reliable technique. The unit is equipped with a defrost system automatically, so no need to manually defrost regularly. To produce a long time could be stored in the freezer, a special cooling technology «No Frost», prevents the formation of ice dams.
What else is equipped with a new unit? The refrigerating chamber is BioFresh section in which the products remain fresh for a long period. Dairy products, meat, fish, vegetables, herbs and fruits are placed in this office, retain their quality and attractive appearance for much longer than in conventional refrigerators. This contributes to an optimal climate in the BioFresh section and the temperature just over 0 ° C.
Features news from Liebherr
Refrigerators CBNPes Series 3756 equipped with many useful features. The main ones are:
System SmartFreeze,
CoolPlus system
superzamorozki mode
supercooling mode
fresh zone
electronic control, LCD display on the door,
alarm door open.
In addition, the device is equipped with an alarm malfunction. The home team will always be time to note when you need repairs Liebherr refrigerators or power failure — Told the acoustic or optical signal.
Internal filling unit consists of 4 shelves in the refrigerator, three drawers in the freezer compartment. Fridge has a section for bottles, canning, packaging is included in the box for the eggs to the ice tray.
The total volume of the chambers is 296 liters, which is the best option for a family of four. This cost-effective device with low power consumption and ergonomic design. Thanks to the front ventilation, refrigeration unit can be used as built-in appliances.