BOSCH KGV New refrigerators series 39VW20 R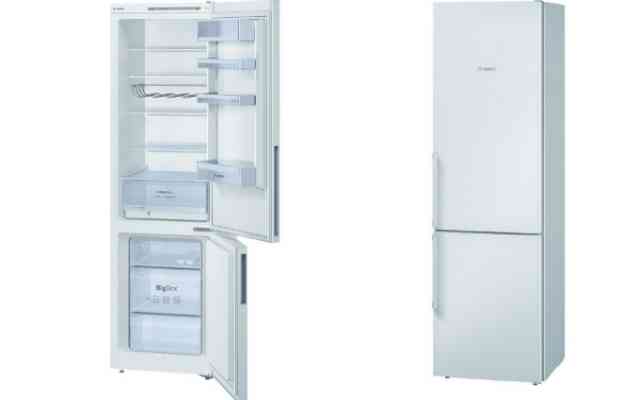 More freshness, less power consumption.
Earlier this year, concern BOSCH launched on the market a series of new refrigeration equipment with improved performance and more economical power consumption (A ++). Model KGV series 39VW20 R LowFrost equipped with technology that prevents the formation of ice crust in the freezer compartment.
In addition to the distinctive features of the unit include options such as:
LED energy-saving lighting,
mode of fast freezing and supercooling,
open door alarm,
electronic control panel located on the door.
Due technology LowFrost, ice build-up is very slow, it gives the opportunity to forget about the need to defrost the cameras, as well as retains the useful volume of freezer space. However, periodically take care of the freezer must be, otherwise you may need repair Bosch refrigerators due to incorrect operation of the unit due to excessive formation of ice and snow coat the cells.
The air inside the cabinet is saturated with moisture needed to produce as long as possible to retain their useful properties. The contour of the evaporator, built for the inner walls of the freezer compartment, creates an optimal climate in offices. The freezer is placed 3 drawers of different sizes, one of which is the increased size. In addition, the design department assumes overall storage products — if necessary, unnecessary shelves and drawers are easily removed.
Organization of the internal space of the refrigerator Bosch
The shelves in the refrigerator on display at a height convenient for the consumer. They fit a wide variety of packages with food, improve the functionality of hanging accessories that are easy to move and are adjustable in height.
The manufacturer recommends not to clutter the interior of the cabinet excessively, it can cause damage to the unit. The air in the chamber should be evenly circulate, or may need to repair the Bosch refrigerators, caused by overheating of the unit.
For storage of fruit and vegetables provides a large (26 liter) container with a sliding transparent walls. A feature of this box is its design — warm air can not penetrate inside the box when you open the door, so that products are protected from temperature extremes.