Embedded refrigerator Smeg the latest model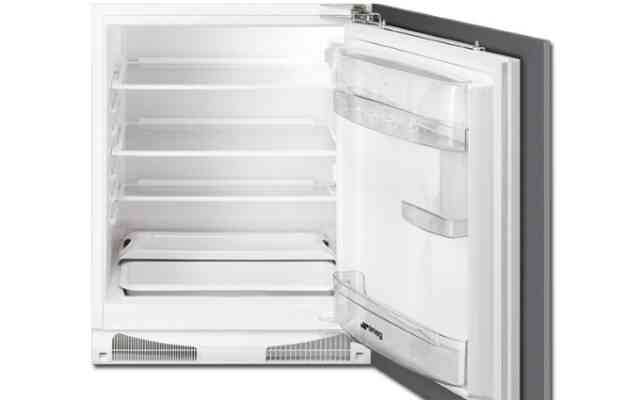 As soon appeared on the market, the brand Smeg fridge FL144A series has become very popular among consumers. A feature of the unit is its small size and the ability to embed under the tabletop. This cost-effective (in terms of efficient use of space) solution, because the unit can even be installed in a small kitchen. Refrigerator, located on the same level as the rest of the kitchen equipment, fits into the space without disturbing the interior, and successfully completing it.
Despite its relatively small size, the volume of new Smeg refrigerator is 144 liters. The refrigerator compartment is equipped with one fixed and three movable glass shelves and a spacious box for fresh fruits and vegetables. The door is also equipped with holders for bottles and eggs, as well as additional offices made from durable environmentally friendly plastic.
Thanks to the «auto-defrost», the machine does not experience much stress, and therefore the repair of refrigerators Smeg takes much less than the art without this option. unit is controlled by an adjustable thermostat. Caring for offices and housing is not difficult enough at times to wash the surface with warm water and a small amount of non-abrasive detergent.
Smeg refrigerator functionality FL144A series
The unit is equipped with a door that can, if necessary, to outweigh the opposite side. This is very useful if you want to install the refrigerator in a small room, where literally every centimeter counts. The door will open in the designated plane, without interfering.
Advantages of the new refrigerators Smeg:
Ability to build in under the tabletop
Economical power consumption (class A)
Low noise level
Stylish design
Affordable
The optimum layout of the internal space
In addition to the above advantages of the unit, it should be noted reliability. Thanks to high-quality components and high-precision assembly, overhaul Smeg refrigerators required in extreme cases, in most cases due to improper handling of the equipment.