Replacement of sealing rubber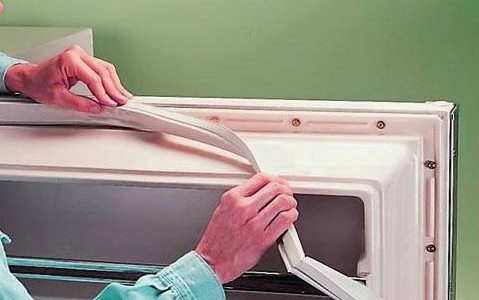 We do not do the replace sealing rubber, but we can give a few tips to help fix this problem with their own hands.
The work is not complicated and is feasible on their own!
The work is not complicated and is feasible on their own! The material may be deformed because the elastic seal is not resistant to low temperatures. Although it is not in the refrigerator so low — + 4 … + 8oC in the refrigerator and up to -14oC in the freezer about this enough, because the seal is exposed to this temperature permanently. As a result, the seal loses its elasticity and stretches, forming cracks and fissures. Cracks reduce the level of leakage. It happens that the seal begins to sink.
In cases where there is no possibility to purchase the seal of the same firm as the refrigerator, used compactors versatile and suitable in size.
If the seal slipped, it is possible to restore the old grandmother's way of wiping vinegar and buttered. At rupture of the seal, particularly at the corners of the door, or when the rubber becomes loose, its replacement is performed.
For installation on refrigerators companies such as Biryusa, Stinol, Ariston, Indesit, Atlanta, you will need a flat screwdriver, because the seal is fixed with screws. «Moment» may need to glue to the other brands of refrigerators.
How to install the rubber seal with your hands:
Turning off the refrigerator. To make it more convenient to carry out works better to remove the door from its hinges and put on a flat surface. But if the door is not too bulky, the replacement can be carried out on weight.
Pull the gum.
Flat screwdriver straining assembly foam, due to which the material is held.
The sealing tape is pulled out of the groove along the entire length.
Before installing the seal, its thickened part is removed. If necessary, the rubber channel can be cleaned.
The new seal is stretched across the door. First produced fasteners angles: with a screwdriver the rubber seal is mounted in the groove between the plastic and metal parts of the leaf.
The seal is inserted into the groove along the perimeter of the door.
Step in the 10-15 cm is fixed with screws in a plastic part.
Use a hairdryer tires warming up.
If the tire is properly installed, the door must be opened with little effort. You can lubricate the seal glue «Moment».
Sealants which are not secured by screws, glue lubricated and inserted into the groove along the entire door.
We will be glad to help you!